Wisdom is comprised of a wise attitude and
the knowledge that is gained by having many experiences in life.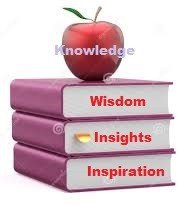 Knowledge is the accumulation of learning and acquiring judgment that can evolve into wisdom.
Wisdom is the ability to experience knowledge, take risks, and engage one's intuition for a full experience.
Insight uses the essence of wisdom to get a better understanding of life and how things intertwine.
Inspiration engages insights that can lead to ideas, action, and opportunity.
The following are 15 inspirational thoughts for you to ponder.

Did you know … the spiritual leaders of Egypt, India, Persia, China, and Tibet all taught their students to speak only when they had something constructive to say? They set up a standard to determine if it was wise to say a thing. "Is it true? Is it kind? Is it needful?" Even it if is true, if it is not kind, then surely it is not needed! This can also be found in the "Triple Filter" test of Socrates.
"Nothing in the world can take the place of persistence. Talent will not; the world is full of educated derelicts. Persistence and determination alone are omnipotent. The slogan 'press on,' has solved and always will solve the problems of the human race." —Calvin Coolidge
"Scientists declare that you are filled with innate intelligence. Every action of your being throbs with actionable intelligence. The very air you breathe and how you live is a thrill with divine intelligence, which seeks to impart to you all you know about everything." —Catherine Ponder
"Follow that small voice inside that makes you come alive." ꟷ Oprah Winfrey. The small voice of intuition is your inner knowing. They come in flashes of hunches, inspirations, or promptings through someone's words, a phrase in a reading, or events. Trust them!
"Usually, if you mentally plan, visualize, and expect a successful day in the early morning hours, there will be little to undo mentally at the end of the day.  —Catherine Ponder
Abbreviated principles from "The Diamond Cutter:" (1) Make and enjoy money, (2) Keep your mind and body in good health, (3) Look back and honestly say that your years of doing business had some meaning. —Geshe Michael Roach and Lama Christine McNally
The greatest need is kindness. Just be caring and decent to others. Use every opportunity to extend a random act of kindness. Kindness is win-win!
Give thanks daily for every prospering and/or creative idea that inspires you to live a rewarding, fulfilled, and successful life.
What you can conceive, you can achieve. How? Don't be discouraged, be persistent. Don't go backward, go forward. Focus on what you want.
PERSIST means "to refuse to give up". You cannot be defeated or fail if you refuse to give up! Today's news about Amanda Eller, who survived 17 days in a Hawaii forest, did not give up. When asked she replied, "I had two choices; I chose life." (Amanda was rescued on May 25, 2019)
GENIUS POWER is your intuition and creative imagination. Trust your intuition and engage your creative imagination and you will achieve amazing results.
Activate your "why" mind. A seeking mind is a healthy mind that gets answers to its inquiries and curiosities, which leads to progressive and satisfying results.
If you allow someone to weaken your power, you are giving them power. Do not allow this to happen. Keep your power without causing emotional hurt to someone else or yourself.
Forgive means to let go of resentment, hurts, and/or conditions that do not serve you well. It's one thing to forgive; the challenge is forgetting and moving on.  Just knowing you are "forgiven" begins the healing process.
Wisdom is not just about age, although in many cultures, age gives the right to wisdom. It's about making good, solid decisions based on experience and foresight.

What are your words of wisdom?