"You are the only one that did not need to be here.
You just did not know it!"
Those were career-changing words from Stan Gargani, Dale Carnegie's instructor, and a huge turning point for my career in 1981 and what brought me to where I am today!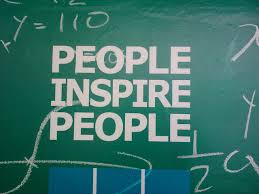 It was the dinner celebration of 13 weeks of Dale Carnegie classes. Certificates of Completion were being handed out, which included "Most Improved," "Mr. /Ms. Congeniality," (Certainly, I would get that one.) Nope! When the instructor, Mr.Stan Gargani, came to the "P's," he skipped me and went on to the "R's." Immediately, I started silently reciting the alphabet on my fingers; I knew "P" came before "R." Have you ever done that before? When Mr. Gargani finished, he commented: "I held one certification for last." Then he announced my name and said, "You are the only one that did not need to be here. You just did not know it." This was followed by an applause in agreement. Seeing my confused look, he then said that he would explain after dinner.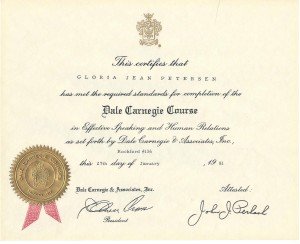 It seems that people's #1 fear is standing in front of an audience and speaking. It's something feared more than death. This is why companies invest huge amounts of money in their staff to take this course. Mr. Gargani commented that I did not have this fear—it was my gift. However, I do get nervous if I am asked to speak on a topic that I have not researched and practiced first! Mr. Gargani recommended, first, that I volunteer in any way I could that would allow me to get in front of groups. And, second, to find my passion point—what gets me excited and makes me want to share! Then, turn it into a career! I received A's in high school and college in speech class, but I never took it seriously. I just considered it an easy class to pass. And I already mentioned my passion for fashion and design.
Still confused and unsure of what he was suggesting, I began my volunteer work at the YWCA. It was "break through the glass ceiling time," and the YMCA allowed a few of us to form a separate branch of the "Y" to help women advance. Since I had over 16 years of corporate experience and fashion background, I volunteered to develop and provide "dress for success" programs. The image consulting industry was establishing its footing and John T. Molloy's Dress for Success books were gaining popularity.  (Keep in mind that this is the 1980s.)
This eventually led to my commentating on casual and career fashion shows for various fundraisers.
YWCA and YMCA
School PTA's
Battered Women and Children Shelter
Christian Women's Club
American Red Cross
and political fundraisers
Okay, it seemed that anything to do with image and fashion was my passion point. Carol Jackson's Color Me Beautiful hit the bookstores, and I decided to be "certified" in color analysis . . . not once, but three times by three different companies. I wanted to make sure that I was thoroughly understanding this new concept. Then I attended Madison Area Technical College to learn more about fashion design, fit, and accessorizing. Finally, I was turning my passion into a career!
During this time, department stores were debuting their petite and large women's sections. As odd as it sounds, these departments always seem to be across the aisle from each other or on a separate floors. Commentating on fashion shows led to an invitation by Filene's of Boston and Pranges Department Store to serve as their Petite Spokesperson. Fern Bratten served as their Large Women's Spokesperson. We had a great time together. On one occasion my petite customer audience was served veggies and dip while Fern's customer audience was served ice cream sundaes! Oh my, did that create a stir!
Mr. Gargani's words were serving me well. I was following his advice and amazing doors and opportunities were opening for me. There were a lot of twists and turns during these 1980 beginnings; however, it all came together eventually and helped me get to where I am today. And, yes, I took the course again in 1999; however, Stan was no longer teaching. I have yet to find him so that I can "thank" him and share how his words changed my life.
When someone notices something in you that you do not,
LISTEN, REFLECT, AND TAKE A CHANCE
It could be your "Turning Point."
In 1989, I decided it was time for additional training to validate what I already knew and to learn what I did not know. I received my next certification from The Protocol School of Washington in corporate etiquette and international protocol.
  What words of wisdom served as a turning point for you?