Like so many others, I have had many twists and turns in my personal life and career. Some are related to market collapses, others to lifestyle changes and health-related challenges. Mine helped me write books!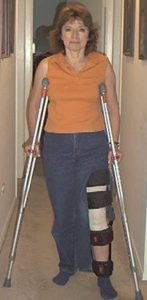 My first serious health-related challenge happened when I was stabbed in a senseless act of violence at an upscale Chicago department store in October of 2004. Not trying to be a hero; just trying to do the right thing … I saw and attempted to stop the theft of a mink coat. It did not occur to me that I could get hurt or my life would be threatened. Without giving you the full story, I will share the bottom line: I was told that I would never regain full use of my severed left thigh muscle. And I was told that I would never wear heels again. Are you kidding? I told my surgeon that I was born with heels on! Love my heels!
I didn't listen and instead, I focused on rebuilding my leg muscle. I was still alive, and I did not ask for this to happen to me! Remember, I thought I was doing the right thing. My accountability statement has always been: "If it is to be, it's up to me." By the way, I lived alone in a three-story building and no elevator. This added to my challenges. Because the prognosis of being partially disabled was apparent, my relationship at the time, walked out on me. Truly, it was up to me!
Beating the odds, I am now fully recovered and have full use of my left leg. Because of faith, determination, and a physical and emotional therapy regimen, I walk proudly today with no sign of a limp—even in high heels! I am now able to talk about the healing process from this senseless act of violence, endeavoring to inspire others to possess the right healing attitude.
During my recuperation, I wrote my first electronic book, "Business Entertaining with Ease" (2005). It did well. However, electronic books were not as secure then as they are today. 
The book would be purchased and then forwarded to several others. I lost control. So, I decided to pull the book and rework the idea, then seek a publisher. I came close to a publisher. Then life happened again.
I received a call from my daughter in Phoenix who just learned that she was expecting twins one year after the birth of her son. She needed help! Time to re-prioritize my life, and I moved to Phoenix arriving one month before the twins were born.
If that was not enough, in January 2010 I was preparing to attend a wine pairing dinner. I felt fine until I started experiencing extreme lower abdominal pains and ended up in the hospital emergency room instead. Within two hours after a CT scan, I was in surgery. Learned I had a rare form of cancer (carcinoid cancer). I thought I was living a very healthy life! I ate right, exercised regularly, maintained a healthy weight, did not smoke, and rarely drank alcohol. Why was this happening? My response: "If I am going to contract cancer, of course, it is going to be a rare one!" Instead of letting this unexpected illness consume me, I fought back with faith, diet, and exercise. I am in remission and winning the battle without radiation or chemo.
While in the hospital, I decided to record and share the wisdom I acquired through my years of work (my legacy).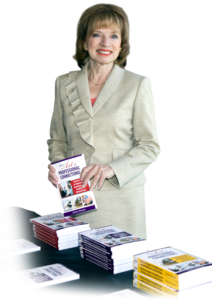 This mindset evolved into a four-book series entitled, The Art of Professional Connections, which is now available in soft-cover and eBook formats. These books were released over 3 years. I reworked my accountability statement to "If it is to be it is up to us." Meaning, I engaged client opinions, experiences, and industry specialists in the development of this series to be sure all of the bases were covered for a comprehensive book series. My knowledge and experiences were not enough! Plus, it made writing the series more fun and rewarding. They are now part of our Subject Matter Expert (SME) training modules. (The process and development of these modules will be in another blog.)
Eventually, my daughter blessed me with grandchild number four. It was the right decision to move from Chicago to Phoenix! Here to stay — for a while anyway. (Actually, I have nine grandchildren. My son has five. I am blessed!)
Overcoming obstacles seems to be my inspiration: achieving against the odds. These personal traumas have made me a stronger person. I enjoy sharing them in hopes they prove to be an inspiration for many.
Knocked down? … Get back up! 
Life happens and Moves On!
Discover how to turn a setback into an opportunity! In the process, you'll become a stronger, more dynamic leader by discovering the "hero" who resides within you. Stay focused on the outcome that "you" want.
When knocked down, how do you get back up?