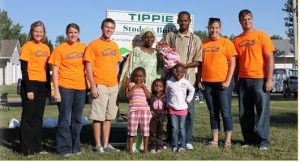 Students are our future. In addition to concentrating on their academics, many students are rebuilding their lives and the lives of others in need. Robert Monge, a finance and economics student at the University of Iowa, recently posted Tippie Build Habitat for Humanity. (I learned of this posting via my LinkedIn connection with Professor Joyce Berg).
"Tippie Build" is an organization made up of students and faculty from the University of Iowa Tippie College of Business that focuses on raising money and providing volunteers for the Iowa Valley Habitat for Humanity. Each year, Tippie Build pledges to raise money for Habitat for Humanity to help build one home at a time. You can learn more about the students' commitment and help support this effort at Tippie Build.

It is always heartwarming when the news media reports how businesses, educational institutions, and communities are coming together to rebuild lives. Every month the Global Business Protocol website features a company or organization contributing to society with their good works. This month our focus is Habitat housing, a collaboration between local community partners and low-income working families who need decent, reasonably priced homes.  Click here to learn more about Habitat housing and how to get involved.
Certainly, these goods works are worldwide, and every time the media informs us of how individuals and organizations are coming together to help people rebuild their lives after a natural disaster, loss of work, unexpected health setback, and so on, we are reminded of how caring and honorable people are. There is enough in the news about murders, robberies, and overall "bad news." When you hear the "bad news," remember the good news and take every opportunity to post these amazing efforts to rebuild humanity.