I have always had a special fondness for Calico cats. I lived alone and traveled a lot, so a cat is the best option for a pet. Perhaps it is also because cats match my independent nature.
Tabitha was my calico cat. She could be left alone for a couple of days with visits from my cat sitter. Simon, whom she loved, would be sure she had food and water and petting time. It was a perfect arrangement.
Pets know! When I came home from the hospital and was recuperating from a senseless act of violence (which is mentioned in my journey blog), she would lay on my left thigh as if to give it her special warming heat (yes, my muscle would get very warm). She only got up to eat or use her litter box. Whether I was on the sofa or in my bed, she always slept on that leg. Yes, I believe she added to my miraculous healing process. We hear these amazing stories about how pets show they care. However, unless you experience it yourself, you cannot appreciate their true magic.
Sadly, Tabitha became ill. She passed on to cat heaven while lying in my lap just a couple of months before my move to Phoenix. Her sudden and unexpected illness remains a mystery. Perhaps because she did not want to leave the only home she ever knew and move with me to Phoenix. It was heartbreaking. I still miss her.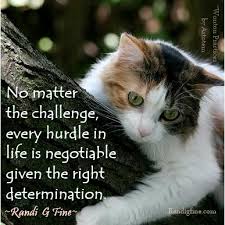 It is no wonder that Randi Fine's poster hit me in such a special way. It is almost as if Tabitha's spirit directed me to a poster that reflects my mantra and shows she is still caring and present. The photo has an uncanny resemblance to Tabitha. I hope you will find it inspiring as well.
It took a few years to invite another kitten into my life. In  2014, I adopted a kitten and named her "Angel;" she is a very entertaining little angel. And in 2016, I added Chloe to give Angel a companion.
Share your pet story.