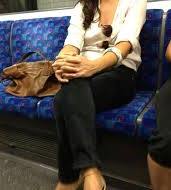 How often have you walked into an auditorium, church, or banquet hall looking for an empty chair, only to find one occupied by a personal item that implied, "This seat is saved." In truth, it was not being saved; it was just being used as a makeshift desk. But you continued to wander the aisles looking for seating. This is always awkward!
If you are seated in auditorium-style seating, the courteous thing to do is to put your personal belongings under the chair in front of you (airplane mode). If you're attending a banquet, put your things under your chair (or toward your feet). This is a courtesy to others looking for seating and it avoids awkward encounters.
Consider the placement: airplane mode.
Another irritating situation is when people prop up their chairs as a way to save their seats. This is dangerous to the servers and other passers-by. Please do not prop up chairs (or disturb a napkin) to save a seat! Instead, ask the staff or coordinator if you would like the seat saved or put an item on the seat.
Be Kind and Courteous with your Belongings
How do you handle similar situations?