Educating Individuals and Communities to Live Safe and Sustainable Lives
Headquartered in downtown Chicago, OAI, Inc., (Opportunity Advancement Innovation in Workplace Development) is a nonprofit training and education agency founded in 1976 by current president Tipawan T-Q Reed. OAI values innovation, respect for all peoples and their cultures, a passion for quality, dedication to hard work, and commitment to success. OAI's mission is to create an environment in which all people can access education, training, and employment that will allow them to sustain and enjoy safe, secure, and fulfilling lives.
"As an OIA board member, it is both humbling and rewarding to know that the work done each day by the dedicated staff of OAI truly has the potential to enable change in the lives of individuals by creating a new vision for generations to come. On the occasions when I can attend the graduation ceremony for the Minority Worker Training Program I am always strengthened by the commitment, will, and resolve of the individuals to move forward, grasp the opportunity, and rise above the various challenges they have encountered. Looking at the faces of the graduates and their families and friends as they mark this special moment inspires and focuses my leadership efforts on behalf of OAI."
Since its inception, OAI has helped thousands of individuals to improve their lives by effectively and responsibly managing more than $63 million in federal, state, city, and foundation training program grants. OAI delivers training services to underserved populations as well as to fire and medical emergency first responders through programs in ten states throughout the United States. OAI's programs provide training for both currently employed workers and unemployed or underemployed individuals who need job skills and critical worker health and safety awareness. Volunteers are the backbone of OAI's success, and OAI is always looking for dedicated volunteers with skillsets and life experiences to share.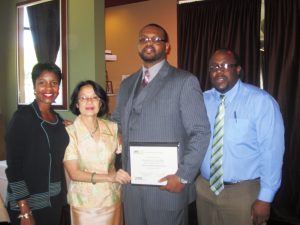 Success Stories 
Minority Worker Training—Dallas: RAYLON PARIS
Mr. Raylon Paris applied for Build4Success in the spring of 2013 shortly after serving a 10-year sentence with the Texas Department of Criminal Justice. During his incarceration, Raylon completed a masonry course offered by Trinity Valley Community College. He was referred to WorkPaths by a graduate from the 2012 class (Ben Henley) who asked him if he was "ready to change his life." It was after this choice that Raylon applied for and was accepted into the Build4Success program. During training, Raylon was punctual, helpful, and quite pleasant to work with. He would also volunteer to drive his classmates home if they needed to stay late after class. He graduated in May 2013 and soon thereafter began working for Aerotek as an environmental technician throughout the summer. He has thanked the WorkPaths staff for helping him keep his promise to himself to change his life. He now has a new car and has referred another friend to apply for the upcoming class that will begin in the Fall of 2013.
Minority Worker Training—Chicago: RICHARD CONNER
Mr. Richard Conner is an MWT graduate who truly exemplifies the spirit of the Minority Worker Training Program and the mission of OAI, Inc. Mr. Conner came to us as a five-time felon with charges ranging from drugs to possession of a firearm. The last time he was released from prison, Mr. Conner decided it was time to make a change in his life. While searching for a job at the Safer Foundation, he was able to learn about OAI, Inc., and the services we provide through our website. Mr. Conner completed the tryout process and was selected as a participant in the Minority Worker Training Program. Upon graduation in August of 2007, Mr. Conner was offered a six-month position to complete a lead abatement project through Ace Remodeling to remove lead-based paint windows in Freeport, Illinois, at a rate of $10 per hour. Mr. Conner then left Freeport to accept a HAZMAT position in Hazlehurst, Georgia, through Tech USA at $12 per hour plus diem and hotel. Through his employment, Mr. Conner was later referred to Section 3, which is a subsidiary of the Chicago Housing Authority. Sec 3 connects citizens of Chicago with union contractors who perform work in their communities. Mr. Conner interviewed with Enviroplus in April of 2008. By April 15, he was employed full-time with the union contractor where he earned a rate of $33.15 per hour. His income has since increased to a rate of over $35.00 per hour. At the time of the program's one-year follow-up, he was still employed full-time with Enviroplus and is pursuing an entrepreneurship program that will assist him with starting his own environmental remediation company.  Mr. Conner has proven to be a hard worker who is dedicated to making a change in his life.
 If you want to know more about their good works,
read and view more success stories, visit oaiinc.org