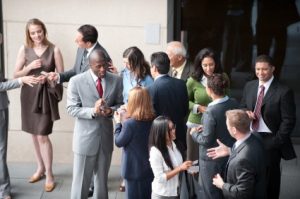 Do you feel that your networking efforts are going nowhere? That might be because there are steps that keep getting skipped! For many the concept of in-person or online networking to secure job opportunities or achieve success is not readily understood or comfortable.
Take a moment to reflect on your past experiences, dig through your written or mental notes on the topic, communicate with networkers (in person and online), and attend as many different kinds of networking events as you can. Then asked the networking "experts or pros" that you have met along the way to share their techniques. This is how the pros do it and how networking truly works!
Jobs open up and careers expand when you know how to effectively mingle your way into networking success. Furthermore, people's awareness of mingling and networking has grown. There are many variations, and the following terms are often used interchangeably. To get you started, consider the following descriptions:
Mix and mingle mixers
A gathering of people socializing in a relaxed atmosphere after work. Typically, this category has a fun theme or is attached to a special occasion (e.g., a holiday or celebration).
Networking groups
A more serious approach to developing business leads or opportunities. This kind of networking gathering will have a brief program or speaker (typically thirty to sixty minutes in length) and is often attached to an association membership or limited referral or leads group.
Mix and mingle networking events
A two-in-one approach. This event starts as a mixer for the first hour, and then a special speaker is announced as the program segment begins. Then, it is back to networking. There is no limit to networking participation, and the speaker presentation typically lasts twenty to thirty minutes.
Social media sites
An approach designed to cross-cultural barriers to develop business leads and grow relationships on the Internet. The visitor simply selects the Internet site that best serves his or her needs. Some sites have a strictly business approach and others have a social approach. It is important to follow the guidelines set for each site.
No matter how much time it takes, you pull people forward when the opportunity presents itself. You never forget the people who have helped you and you always keep them in mind for opportunities. It is about paying it forward and involving them in your process.
As you can see, there are many ways to mingle and network. Each option will have its own identity or purpose, and the events will have a specific focus in terms of the work they do and the markets in which they compete for your involvement.
Take every opportunity to attend a variety of networking events.
That's how you find your best fit! 
Please share your networking tips.