I am often asked: "How did you get into a career in image, etiquette, and protocol." My answer has always been: "I evolved into it." It was not a specific career choice. To be honest, I was simply pursuing my passions and they led me to this new career.
After I ended my 16 years working for a municipality and an international company, I took time to reflect: What do I "really" want to do with my life? My career book in high school was on fashion designer, Edith Head. (I designed and made most of my high-school wardrobe.) I entered college thinking that I wanted to major in home economics (I loved sewing.) and minor in physical education (I also loved gymnastics.) but something just did not fit. Know the feeling? So, I focused on fashion design in the 1970s and joined an exercise salon to stay fit and flexible. Then I started seeing articles about a new industry that was evolving. It caught my attention because it made sense!
My image consulting journey began in 1980 as a Mary Kay Consultant (skincare and makeup artistry from 1980 to 1985). During this time, the "image" industry was taking on a new form. I ended my career at Mary Kay in 1985 to start my image consulting business. I chose to specialize in dress-for-success fashion workshops and corporate seminars. To truly understand the image consulting industry, you must take a walk in the shoes of those who have been there since the beginning. Only then can you truly understand the industry, its influences, and its direction.
Image is the total parts an individual presents to the world.
… Joan Timberlake
In 1983, Joan Timberlake wrote a book, Image Consulting, The New Career. She identified eight important categories of image consulting: (1) color, (2) wardrobe planning, (3) makeup, (4) speech, (5) manners, (6) entertaining, (7) total style, and (8) personal public relations. Just before that, Carol Jackson released her first edition of Color Me Beautiful in 1980, and then Doris Pooser released her book, Always in Style with Color Me Beautiful: Your Shape, Your Style! in 1985.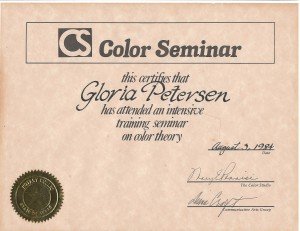 I received my certification in color analysis from The Color Studio with Mary Pennisi (formerly with Color Me Beautiful) in the spring of 1984, and I enrolled at Madison Area Technical and studied fashion in the fall of 1984. This certification and education opportunities served as the foundation for my first company, "You Are Unique," in August of 1985, through which I provided color analysis and fashion workshops for men and women.
To learn more about this new career and to stay up-to-date on trends, I attended my first convention, AFIC (American Federation of Image Consultants) in California in 1984. Later, I would receive certification from the Professional Image Institute (1989) and The Protocol School of Washington (1991, 1992, 1994), which influenced a change in what I offered, and the evolution of my company name to Global Protocol, Inc. took place in 1999. (You will read more about this journey in my next blog.)
Since the 1980s, several associations have evolved (e.g., AFIC, IICI, TIFIC, IFIC, FIPI, AICI—I won't spell them out here) to help stage this new career opportunity. Some have survived by merging (e.g., AFIC and AICI merged) and others dissolved. Based on personal experience, the AICI (Association of Image Consultants International) has built the strongest system and has enjoyed a solid track record since the 1980s.
What was once primarily available to celebrities now became mainstream. A new career and industry took root and boomed. Since those early years, numerous books have been written and new careers have taken shape. My best tip for those entering this field is to have a well-rounded knowledge of all areas of image consulting; however, specialize in the areas that fit your passion and what you are naturally good at (your talents or gifts).
Partner with other image consultants in the areas that are not your best fit. I often partnered with hair stylists, makeup artists, and personal shoppers. Although I have a background in makeup artistry and was a personal shopper at Nordstrom, I prefer partnerships. They make it more fun, rewarding, and beneficial to the client.
People like to see themselves in certain ways, and that is the challenge. We see ourselves as we want to see ourselves or as how we have been influenced or raised to see ourselves. It is important to also learn how others see us. In other words, there is an "untapped" part of you that the trained eye of an image consultant can help you reveal (or unravel). Have you ever bought an outfit that you saw on a mannequin in your size that fit perfectly, but just did not look right? That is exactly what I mean. A trained eye can tell you why it did not work and help you focus on designs that will work. You will save money and reap compliments! What more could you ask for?
The whole idea of "Power Dressing"
was strengthened by this image movement.
Important Tip: When selecting an image consultant, check out his or her training. True, many people have a natural knack or gift; however, training helps the image consultant understand their gift better and how to enhance it. Only then can you truly help a client? You have to know and adjust (if necessary) your image first! A trained consultant should be able to explain to the client "why" something worked or did not work. The answer should never be "just because!"
Are you looking at image consulting as a new career opportunity? Today, this industry has several different avenues (e.g., coaching, training, consulting) and is a part of many different industries (e.g., retail fashion, corporate/career image, self-improvement). Learn your options. It may be a company that you want to form, something you want to add to your current offerings or something you want for your personal growth. Check out all your options first. Then decide.
Want to learn more about an image consulting career?
Visit the AICI website at aici.org—they have chapters in most cities.
Ask about our private and small group image consulting classes.
or contact: [email protected]