Holidays are the perfect time to show appreciation. 
In your "busyness" have you forgotten to show appreciation throughout this past year? It happens to all of us, and that is why the holiday season is the perfect time to reach out and show your appreciation—and you can do this effectively with a holiday gathering or in the form of a gift.
The following are frequently asked questions and tips to help you have a memorable holiday season.
Extend "Your" Holiday Greeting
Are you trying to extend the appropriate holiday greeting and still be politically correct but feeling awkward in the process? It is simply impossible to know the personal beliefs of everyone we greet during this holiday season. Therefore, if I say, "Merry Christmas!" and you respond, "Happy Kwanzaa!" or "Happy Hanukkah!" we are good. Exchanging greetings is a wonderful way to share your holiday celebration preference and at the same time honor the season.
Tip #1: Your holiday cards should reflect your religious or cultural beliefs.
Tip #2: Do not use "Happy Holidays" as an escape phrase; use it only if it is truly your preferred holiday greeting. (The exception would be a corporate or business "Happy Holidays" card that needs to reflect a wide range of beliefs.)
Tip #3: It is unfair to yourself to sidestep your convictions through your holiday greeting. Share your greeting.
As the saying goes, "Do not walk on ice" to avoid offending another with your greeting. Instead, be understanding and flexible! 'Tis the season for sharing and giving.
Honor Company Gift Policies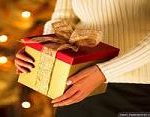 It is not easy for the well-intentioned individual to know the gift policy of every customer and every company. People get caught up in the spirit of the holidays and want to show their appreciation, yet companies have to be careful and make sure that the gifts or gestures cannot be interpreted as gifts to guarantee future work or favors. Due to this sensitivity over-interpreting gifts, there is a tendency toward making charitable contributions in the name of the gift recipient. This allows you to send a card to acknowledge your relationship with the recipient and do something beneficial to society in general—perhaps a charitable organization the company espouses—without crossing over any ethical boundaries.
The appropriateness of office gift-giving is determined by company policy, personal relationships, and sensitivity. While some companies do not have a gift policy, others have a dollar limit or other guidelines explaining what their employees can and cannot give and what they can receive. Check with your (or your client's) human resources department regarding the company policy on offering or accepting gifts.
Find out what is appropriate and what falls within corporate gift guidelines, and try to learn something personal about the gift recipient. The gift then becomes a gift with impact.
Consider the following when making your gift selection:
Find out the dollar limit for gifts as stated in the company policy. For example, the gift value norm for most companies is fifty dollars ($50.00).

Does the type of gift violate any company policies?

Will the gift alienate others or make the recipient feel uncomfortable?
A gift is a token of appreciation. Sometimes, a verbal or written thank-you adds the perfect touch. The gift could even be intangible, such as volunteering at a charity in the name of the client. Extend a gift that is from your heart, has meaning for the recipient, and expresses goodwill.
Research indicates that a holiday thank-you or end-of-the-year gesture
reinforces commitment to current customers and
sends a reminder to prospective clients.
The Option of "Regifting"—Do It Carefully!
Did you receive a gift last year that is still in its original box? Last-minute shopping might tempt you to re-gift it. "Regifting" or "gift-recycling" refers to receiving a gift that you do not want (or cannot use) and then passing it on as a gift to someone else—so as not to "waste" the gift. Consider the following tips on how to regift and avoid offense.
 Tip #1: There should be no possibility that the original gift giver will find out that you passed the gift on to someone else.
 Tip #2: The gift should be personalized, rewrapped, and something you are certain the recipient will enjoy.
 Tip #3: If you receive a gift that is not needed or is a duplicate, donate it to a charity or shelter. Someone will be glad you did!
Depending upon how the gift is handled, it might be a good gesture, or it might become a hurtful experience. Certainly, much depends on the motive behind the gift exchange.
Mind Your Reputation—and Yourself!—at Holiday Parties
A good reputation takes years to build. However, it only takes one negative incident—especially at a holiday function—to destroy a professional's stature in the business community, with clients, and with peers.
Holiday parties are the perfect opportunity to demonstrate and share your "social ability" and to broaden your business social circle.
Tip #1: Holiday behavior can demonstrate the social skills that will get you promoted or brand you as the party horror story. Worse yet, a poor display of behavior could end up on U-Tube or be the topic of discussion at the water cooler or company lounge. It's your choice!
Tip #2: Make it easy to mingle and circulate by briefing your date or spouse on the people and the company before the party. The more you share, the more comfortable he or she will be.
Tip #3: Whether you are the host or a guest, make sure that everyone is interacting. You will demonstrate impressive leadership skills and social prowess.
Tip #4: Keep holiday conversation enjoyable by derailing a topic (or joke) if it is heading in a damaging or uncomfortable direction.
Tip #5: Keep confidential information confidential. The competition (or the media) could be present in the person of a husband, wife, or friend of a guest.
Tip #6: Be discreet with your technology. Make the people around you your priority. If you must make or receive a call or text, do so privately.
Tip #7: Display impressive dining decorum. Do not double-dip at the hors d'oeuvres table, for example, and eat your holiday meal with class and distinction.
Tip #8: It can take an hour for your body to process one alcoholic beverage, so drink alcoholic beverages in moderation. To control your body's alcohol intake (and avoid a potential DUI afterward), drink a glass of water between each alcoholic beverage—and eat food (never drink on an empty stomach). Stay in control of YOU.
Tip #9: The holiday celebration is a wonderful time to wear your best attire and to express the more glamorous or creative (fun) side of your personality. However, if what you are wearing is too revealing, you risk making others uncomfortable. Dressing with good taste always makes a better statement.
Protect your reputation and the reputation of your company at holiday receptions, parties, and dinners.

Make every holiday season celebration
the example to follow!
Please offer your holiday tips.