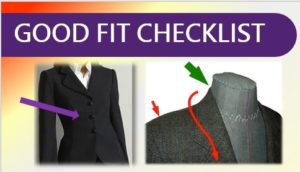 A good fit is critical and the paradigm of professional dress.
A great-looking suit will lose its visual power if it does not fit perfectly. Furnishings (e.g., men's hosiery, belt, tie or tie clip) or accessories (e.g., women's jewelry, hosiery, belt, or scarf) add the finishing touches and should project personality and attention to detail. Whether business casual or corporate traditional, be sure that your clothing is pressed, neat, and clean, and that it fits properly.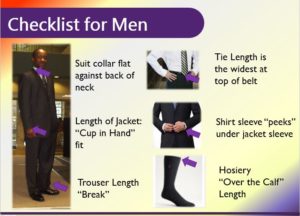 For men, the back of a suit jacket neck should lie against the back of the neck resting against the shirt collar (no gap between neck and jacket).
The front lapel lies flat against the chest when buttoned. It should not buckle when you stand. Once you are seated, the jacket is unbuttoned so that the lapel continues to lie flat.
Note: The bottom button is never buttoned … standing or sitting.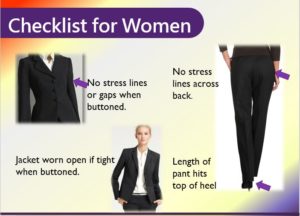 For women, the buttoned suit jacket lapel should rest against the bust line without buckling or pulling, which is created when standing or sitting.
If the fit is an issue and the suit jacket is designed to be worn buttoned or unbuttoned, leave it unbuttoned and show off a beautiful shell or blouse with a necklace. The same applies to the back of a skirt or pants. There should be no pulling of the fabric (e.g., stress lines).
To add an extra touch of polish (if there are belt loops), consider adding a belt.
 Want to know more?
The Art of Professional Connections: |
"Seven Steps to Impressive Greetings and Confident Interactions?
What are your fit challenges?