May is "Civility Awareness Month"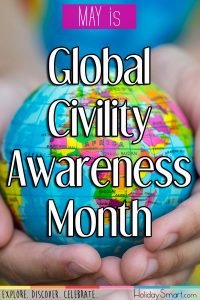 Do you ever wonder where all the National (or International) Awareness Month (or Day) notices are generated? The idea is to put a special focus or observance on humanity and/or a special historical moment. 
Make every day a special awareness day! Start by awarding "Civility Certificates" to your favorite organization, for team spirit, or to a good Samaritan.
For more ideas and upcoming considerations, visit:
Chase's Calendar of Events (an American publication of Awareness Months): The National Awareness Month was started in 1957 by brothers William D. Chase and Harrison V. Chase and is known as the Chase Calendar of Events. It continues to serve as the world's date book. The postings are continued (or generated) by organizations and individuals. For example, May is International Civility Awareness Month—posted by the Association of Image Consultants International (AICI)
United Nations Observances (Awareness Days): In 1950, the General Assembly approved the first international day — Human Rights Day — to be observed on December 10th. The month of May is broken down into "International Days" from May 3rd to May 31st.  For example, May 15th is the International Day of Families.
If you feel civility is lacking, be an influencer and start your campaign.
What are you doing to support civility?