Confidence is a feeling or consciousness of one's powers or
reliance on one's circumstances;
faith or belief that one will act in a right, proper, or effective way.
̶  Merriam-Webster Dictionary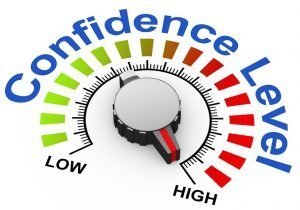 Keep tabs on your confidence barometer. Setbacks happen! When they do, one's self-confidence can be challenged! By managing your self-confidence, you automatically ignite a positive feeling within yourself, and you become an inspiration to others.
1. By speaking words of confidence concerning others, you attract them to yourself.
2. Developing self-confidence is exhilarating and contagious because it multiplies your abilities and it gives you a stronger and more positive sense of self. 
3. Confidence is in the "comeback attitude." In a recent interview, Tiger Woods talked about having a "pretty good feeling" about winning. Not much has changed as he wins his fifth green jacket in The Masters (his 15th triumph in a major championship). I captured a line from a conversation while watching a television interview when Tiger Woods was in his golf prime early in his career. He was asked if his father was the key to his golf success. Tiger Woods smiled and said:

"I set unachievable goals. When I achieve one, I set another unachievable goal." ꟷTiger Woods 
4. Confidence is within you. However, life can create detours via fear, phobias, and what you believe to be true. Regain your confidence by dissolving inferiority complexes and restoring self-confidence with daily reassuring affirmations. 

5. Happiness Heals! Happiness is the result of confidence. When you feel happy, you project happiness. Begin by mentally imagining your life as an ever-renewing, ever-unfolding expression of life, health, and energy. 

6. Confidence is standing by your good intentions even when someone tries to make you feel otherwise. Be true to yourself!

7. When your confidence encounters a roadblock, don't get angry, feel defeated, or become frustrated, instead reroute and move on. Confidence always finds the better path.
8. Confidence has many components. One of which is "persist," which means "to refuse to give up." You cannot be defeated or fail if you refuse to give up. 
9. When discouraged, recite to yourself: "I am not discouraged; I am persistent. I go forward! I am not on the way out; I am on the way up." 

10. When your confidence feels depleted, revisit "thank you" notes and/or accolades that you have received over time. This moment of reflection is a wonderful motivator.

11. Develop self-confidence by speaking words of kindness, encouragement, and success to others. By doing so, you attract it to yourself by default. 
12. Confidence is in your "can do" attitude. You are demonstrating that you are willing to deal with problems or new tasks, rather than complaining or giving up. It's a powerful attribute. 

13. Feeling somewhat down? Camouflage insecurities with your posture!  Your posture sends a very strong visual message. When others "see" your in-control posture they will assume that you are in control. People respond to what "they think they see." You, in turn, will feel more confident. Plus, good posture increases stamina.

14. Restore self-confidence by getting rid of a defeatist attitude. How? Focus on the result that you want by staying strong and determined. It's a game you play with yourself to "win" and move on to a more positive aspect of your life. 
15. "Confidence never gives up; it regroups. Stay confident with these thoughts: "Persistence" enhances your "can-do" attitude so you can achieve your objective. "Failure" is success trying to be born differently or alternately. "Rejection" is a detour asking to be reworked or rerouted.

What is your confidence range?