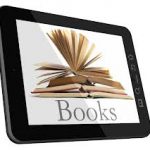 Schools and corporations are increasingly replacing textbooks with hand-held tablets to sustain the learner's interest and keep costs down. How does this compare with the usage of print versus tablet resources? Certainly, both have their strong points.
A tablet is easier to carry than a stack of books or paper printouts, and it's easy to read in just about any setting, indoors or outdoors. On the other hand, books and printed reports never run out of batteries or need an Internet connection. 
Schools and parents are increasingly using electronic devices for short video presentations like the ones created by Salman (Sal) Kahn through the Kahn Academy in which students watch a lesson plan one-on-one with an expert to prepare for class. More recently, webinars have become the online training module, and cloud-based video conferencing platforms (e.g., Zoom) are replacing in-person classroom learning. This represents a major shift in educational procedures.
To what degree is this style of learning successful in the classroom or training center? Perhaps it's a combination of modalities (e.g., hybrid learning) that makes it all work. The point here is to not stay stuck on one style or modality of learning. You must be adventurous and open-minded. Inspiration follows.
Please share your thoughts.